New Ghostbusters still making press, Universal Monsters return, Thrawn returns to the Star Wars universe, Rogue One BTS- reel and more.
While IAB is still on vacation, guest author Dee presents you the most important entertainment and movie news of the week.
It's been an awful week in terms of "real world" news, so here is some movie and entertainment- bullshit we can have fun complaining about. You earned it!
That's what prison does to your brain, kids
Once-upon-a-time-legendary director John McTiernan (Die Hard, Predator) is back With A Vengeance, talking shit on superhero movies and other blockbusters in an interview with the French magazine "Premiere". Sounds good, right?
Sadly it's not really a sharp rant but rather resembles the jabbering of an old, confused and bitter man who is out of touch. Here is what he has to say about comic book adaptations:
"All they're making are comic book adaptations. There's action but no human beings, they're films made by fascists. They're making all the kids in the world think that they'll never be important enough to have a film made about their life. And it's a unique moment in the history of cinema, it didn't used to be like this. A kid used to be able to learn how a man or a woman should act by watching films. Morals. Comics make heroes for businesses".
…and the Captain America movies in particular:
"Captain America, I'm not joking… The cult of American hyper-masculinity is one of the worst things to have happened to the world during the last 50 years. Hundreds of thousands of people have died because of this idiotic delusion. So how is it possible to watch a film called Captain America?!"
Well, one could argue Marvel movies actually could need some of that "hyper-masculinity"he's blathering about, but taking McTiernan's statement at face value I seriously wonder who, among other directors, kicked that trend off.
Source: Collider
China is afraid of no ghosts
The poor Ghostbusters reboot gets no break. Following a heinous smear campaign of supposed Trump supporters, resulting in the most-disliked trailer in YT- history and rather middling BO- prospects (considering the $144 million budget), there is now a new rumour circulating that the movie might be banned in the People's Republic of China aka The Promised Land of BO-Miracles.
China has a history of banning movies that feature ghosts and spectres – most recently Del Toro's Crimson Peak fell victim to that odd clause – and now Paul Feig's requel could be denied that precious Yuan Hollywood is increasingly relying on, despite cleverly changing the name of the franchise from "Ghost Catcher Dare Die Team" to "Super Power Dare Die Team". Has adding all those culturally non-specific, universally understandable genitalia- and body-function- slapstick jokes been for nothing?*
*Maybe those are owed to Feig's sense of "humour" though.
The "no ghosts"- policy has been applied rather sporadically and inconsistently over the years, with no satsifying explanation given by the censors (duh). The reason for this guideline might have nothing to do with the secular principles of the regime as often assumed, but could have been implemented due to the use of ghost stories as covert political criticism in the past.
On the other hand, in times when the rationale is to entertain an oversized marketing-machinery as a means to sustain an oversized movie-making industry, even exceptional Chinese BO-receipts seemingly stopped being a guarantee for at least a minimal profit, as could be witnessed using the sad example of this year's Warcraft, which might not break even despite making $430.1 million globally ($220.8 million in China).
Source: THR
Well, as long as Chinese Ghost Story (1987) is not getting banned in the Western hemisphere as retaliation…
Begun, the plundering has
Remember when Disney bought Lucasfilm and pushed the mediocre-to-awful "Star Wars Expanded Universe" out of the airlock to make "tabula rasa" just to replace it with their own mediocre-to-awful expanded canon? (Read the comic that explains how C3PO got his red arm, y'all!)
All the new hopes of getting the chance to see EU-elements making another appearance have been mercilessly crushed.. but never tell me the odds as they say and to the delight of all EU-fans (yes, they exist), the cherry-picking has started! Cuz' Disney wants to have the cake and eat it!
Sadly it's not the legendary Sun Crusher that is set to return, but the legendary villain "Grand Admiral Thrawn" from Timothy Zahn's Heir to the Empire– book trilogy that will grace the screen in the third season of the animated series Star Wars Rebels.
Thrawn is characterized by two attributes: 1. he is a brilliant tactician and 2. he is blue.
Why not? My advice to Disney: Just be careful when re-introducing EU-leftovers….(too soon?).
Source: Movieweb
I'm a middle-aged Frankenstein
Universal is still sticking to their plan to utilize their "Universal Monsters"- back catalogue for the creation of a "Cinematic Universe", consisting of an A-list-star-studded series of Horror/Fantasy action movies, as that formula proved to be a winner considering the mega-success stories of Van Helsing, Dracula Untold and just recently, Victor Frankenstein…right?
The facts that Dracula Untold might not, as originally announced, be part of the canon after all and that the non- fan favourite and pop culture criminal Alex Kurtzman is directing the upcoming Mummy instalment (starring Sofia Boutella) are not instilling hope either. All the fans who are still claiming the WB/DCEU- masterplan is a failure might reconsider their opinion when looking at this trainwreck in the making.
Nonetheless, Universal obviously likes to burn money spares no expense and is attempting to hire master thespian Javier Bardem to play Frankenstein. Reports are contradictory though, it's not clear if he is set to play the Doctor or actually his monster. All we know is that his character might not be the only one in need of a brain in this whole affair.
Source: Variety
Rogue One: A Star Wars Story Official Featurette, no new trailer yet
Best moment: 2:07
Now You Hear Me…Talking Chinese!
"Last Hope Chinese Box Office", pt. 2: Lionsgate and the Chinese film company Leomus Pictures are planning to produce a Chinese-language spinoff of the successful 2013 "Stage magician heist" movie Now You See Me.
Jie Qiu, CEO of Leomus Pictures states:
"[…] And a Hollywood writer will be involved to make sure the spinoff is aligned with the Now You See Me franchise and has the same level of quality."
Guess they did not want to set the bar too high for their first collaboration….But what we want to know is, who is fit to emulate the shrill Eurotrash-charm of Louis Leterrier's direction?
This is a highly interesting development that, if successful, might open up brand new options for revenue. Philosophically speaking the question remains if this means a progressing Sinicization of the US- film market or rather a progressing, subtle Americanization of the Chinese audience's (movie) tastes? Hopefully, in case it's latter it is not interfering with Jim's and Arnie's plans to keep the Chinese from eating meat!
Source: THR
…and the Gunslinger followed
More news from the upcoming, long-awaited Stephen King adaptation The Dark Tower, which is currently filming. The Dark Tower is a complex dark Fantasy epic telling the tale of gunslinger Roland (Idris Elba) who is crossing the desert of the alternate dimension called Mid-World to pursue the "Man in Black" (Matthew McConaughey).
Entertainment Weekly confirms what has been rumoured for some time, namely that the movie will be a direct adaptation of the saga – which might be impossible, as it is spanning over eight books- but a kind of hybrid between sequel and "remix" that rearranges story elements from all chapters into a new narrative.
Time will tell if this proves to be a brilliant storytelling tweak or rather a lame mix of key moments cobbled together for the fans and clunky, supposedly audience-pleasing new elements.
Anywho, here are some new promo/set photos.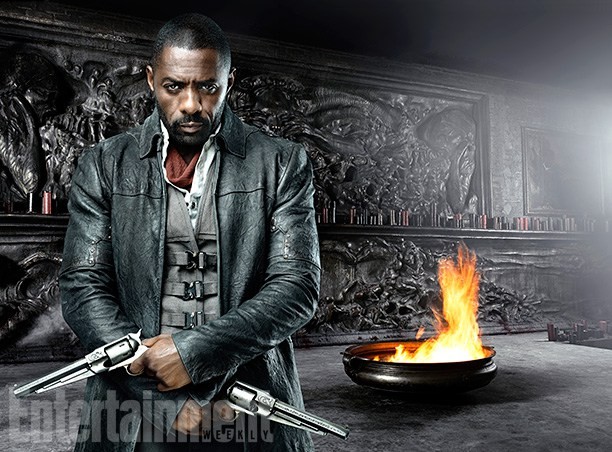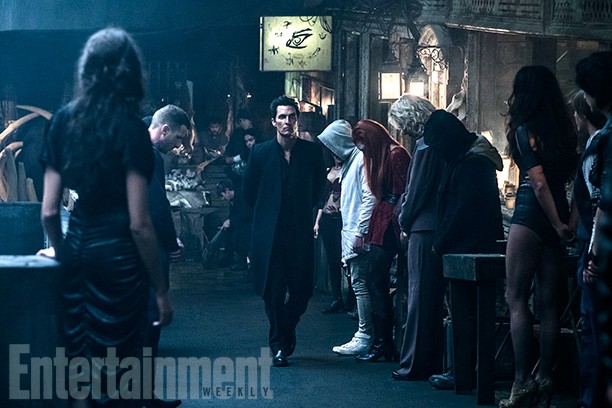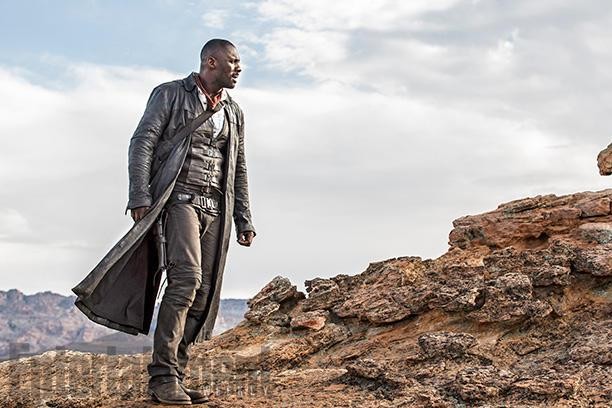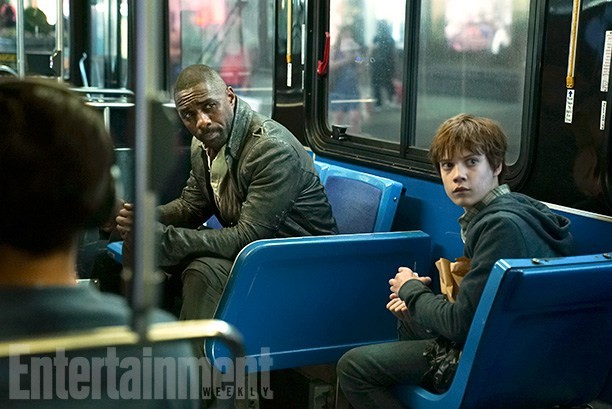 I know it's too early to judge and promotional material is often notoriously not accurately representing how things look in the finished movie, but this is a little underwhelming so far. Elba's generic steampunk-costume doesn't exactly rock my world (and where is the hat???), nor does McConaughey's goth party. The weirdness and surrealism King's opus magnum opus is exuding, is still missing here. I also hope the final film does not look as bland, clean and polished so it's easier to visually align it with the look of a potentially planned TV-series, as Marvel is practising it with its MCU.
SPIT TAKE OF THE WEEK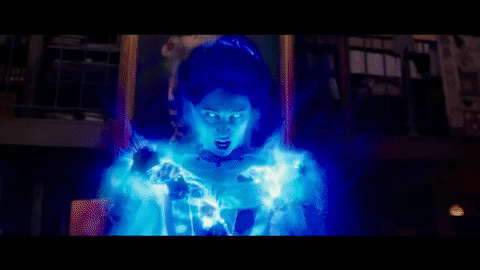 New Predator movie rumoured to cast James Franco as lead….
"The Wrap" reporter Jeff Sneider claimed on twitter the talent (??) agency CAA is pushing for James Franco being cast as the lead character in the upcoming Predator– reboot.
CAA pushing James Franco for Shane Black's PREDATOR? Meet the Movie Press… https://t.co/SUH53AZ5fO

— Jeff Sneider (@TheInSneider) July 15, 2016
Okay, there is a good chance that this rumour is 100% bullshit.
On the other hand, it's so awful it could be true – you know how that works. In that case, all I have to say is:
I have honestly not been pumped for the Predator reboot until Shane Black, who is currently going through a deserved renaissance, came on board to write (with Fred Dekker!) and direct it.
Should this announcement turn out as true, my interest is down to 0% again. For starters, I did not hate Franco in the beginning, but boy, over the course of the years he really put some effort into making me loathe his pretentious, wannabe-artist persona and his unfunny friends.
Franco makes the already miscast Adrien Brody from the dull Predators (2010) look like a sexual tyrannosaurus, you could say he is to Brody what Brody is to Arnie. I guess the casting director took McTiernan's complaints (*the circle is complete) to his heart!
Unless Franco is cast as the Predator himself….that would be appropriate!